iPhone™ Diagnostics & Repair, Upgrades, Parts, Data Recovery, and More. On-Site Appointments Available. See Service Locations.
PC Pros is your one-stop shop for iPhone repair services!
Our Apple iPhone repair services are second to none. We offer a full line of replacement parts that are top-of-the-line so when your repair is complete you can be happy knowing that it's as good as new.
iPhone water damage repair is also common and the extent of the services needed may vary. We use a 'special' process with equipment and technologies that other competitors don't know about. 
Let's face it, no one likes having a broken or damaged iPhone. Fortunately, with Apple iPhone repair services by PC Pros of Wellington, Florida, it doesn't have to stay that way for long.
PC Pros is conveniently located in Wellington, FL and services the West Palm Beach area. PC Pros uses only top of the line replacement parts when it comes to making smartphone repairs, so you can rest assured knowing your favorite device will be like new once again.
Cracked screen? No problem. Water damaged? Unlike our competitors, we can revive water damaged phones around 90% of the time, depending on the situation.
PC Pros can repair and service all generations of the iPhone. That's right, in addition to our reputation for computer and laptop repair, PC Pros has helped many customers get the most out of their favorite smartphones so they don't have to pay hefty insurance premiums or upgrade at an expensive cost (especially if they are outside of contract!). From that old 3G antique that came out in 2007 to the highly evolved iPhone 6S Plus and beyond, we know how important it is to you and will take the utmost care to extend the life of your phone for as long as possible.
Cracked Screens
Is their a crack in the glass? Does the LCD behind the screen show any  lines or is the display all white? If you said yes to any of these questions, you need a free iPhone Glass and LCD Repair Consultation. Stop by our Wellington location for an analysis to see what needs to be done next, so you can forget it ever happened.
Feel free to give us a call or send a message through the contact form on this website to provide more details and schedule an appointment. 
Water Damage
Spill water on your phone? Stick it in a bag of rice and bring it in.
We use a proven process that utilizes technology and special equipment that most other competitors have never heard of. We fix water damage for all of the iPhone generations so the unit is as good as new, over 90% of the time.
Store Hours
Monday-Friday: 9:30am-5:30pm
Saturday: 12pm-4pm
Sunday: Closed
iPhone™ Models We Service
• iPhone 3                            • iPhone 4s
• iPhone 3G                         • iPhone 5
• iPhone 3GS                      • iPhone 5S
• iPhone 4                            • iPhone 6
• iPhone 6S                         • iPhone 6 Plus Series
Common Repairs
A repair can mean many different things, therefore, the first step for you would be to recognize exactly what the problem is you are having.
A couple questions to ask yourself: Is the glass cracked? Is the LCD behind it showing lines or is it all white? If so, you need a iPhone 3GS Glass and LCD Repair. 
If only your glass is cracked and your LCD is working fine then you need iPhone™ Glass Repair.
If your glass is not broken, but your LCD is showing a white, distorted, or black screen then you would need our iPhone™ 3GS LCD Repair.
Did you drop your iPhone™ in liquid and/or spill something on it?
First and foremost stick it in a bag of rice and then bring it in.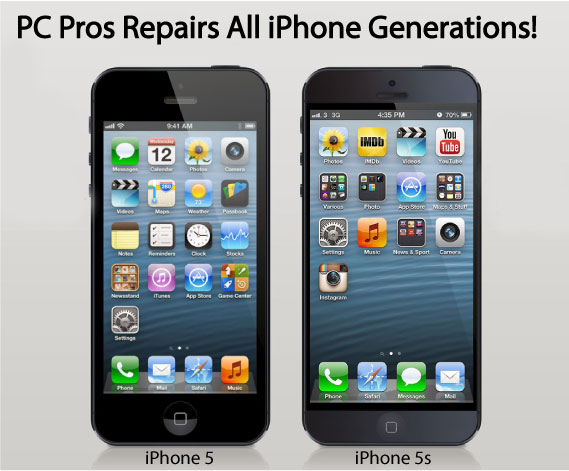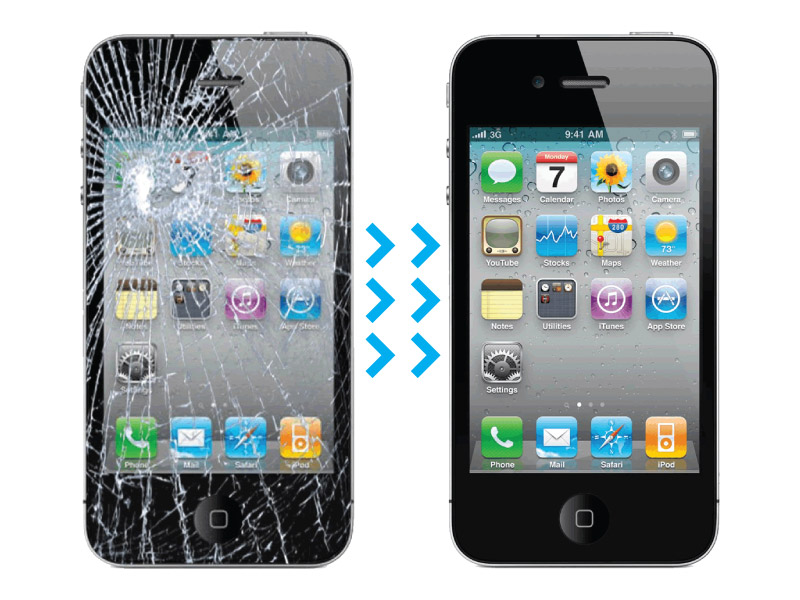 Water Damage Repair
The quicker you get the iPhone to us, the more likely you are to have it working again and for it to be repairable.
Is your iPhone is not accepting a charge or dies really fast? You more than likely need a Battery Replacement.
If you not sure of the problem you are encountering with your iPhone or the problem is not listed then an iPhone Diagnostics is needed. We will conduct a full diagnostics of your iPhone™. We will then get in contact with you to discuss the problem prior to doing any repairs.
We provide you with a breakdown of all necessary repairs and the price before going ahead with the repair.
Contact PC Pros of Wellington